NEW !

No10: GRAN PANATELLA
THE CREDO LIGAS CIGARS

Generous nature has endowed some of the world's most beautiful tropical valleys with the ideal soil and climate for growing the finest cigar tobacco.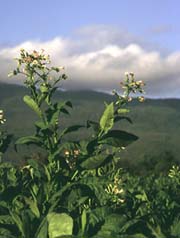 Centuries of devoted work have made legends of these valleys where tradition and inspired innovation have developed the great tobaccos of the world.
Jamastran Valley, nestling between the green mountains of El Paraiso, has nurtured one of the finest varieties of "habano" tobacco: Habano Jamastran. Natural drying in a "casa de tabaco" double fermentation by class of leaves and careful selection of blends give CREDO LIGAS cigars their unique power and aroma.

Launched in 1997, the CREDO LIGAS brand is a Honduran vintage in a traditional box decorated with a vista designed by the Andalusian artist Miguel Belchi. Hand-made in Danli, in the Honduras, this cigar is made from full-bodied Habano tobacco, grown in the Jamastran Valley and blended with a mexican tobacco from Yucatan: El Moron.
The wrapper with its bronze sheen is obtained from Sumatra seed, while the binder is Habano. CREDO LIGAS stands for the shared pleasure of enjoying a smoke in company represented by the carnival figures in the vista.

We all know that special moment when smoking a cigar evokes the festive atmosphere and creates a relaxed mood.
No1: DEMI TASSE : 140 x 13 (5É 1/2 x 32) - Weight: 7,2 g.




No 2: ROBUSTO : 27 x 19,9 (5" x 50) - Weight: 13,2 g.




No3: CORONA : 146 x 17 (5" 3/4 x 43) - Weight: 12,5 g.




No4: CHURCHILL : 177 x 19,4 (7" x 48) - Weight: 16,9 g.




No5: DOUBLE CORONA : 203 x 20,5 (8" x 52) - Weight: 21,2 g.

No10: GRAN PANATELLA: 177 x 15,08 (6î1/4 x 38) - Weight: 13,5 g




BELICOSO : 160 x 20,5 (6"1/4 x 52) - Weight: 16,5 g.